Heritage Festival Coming to SIC Nov. 5 & 6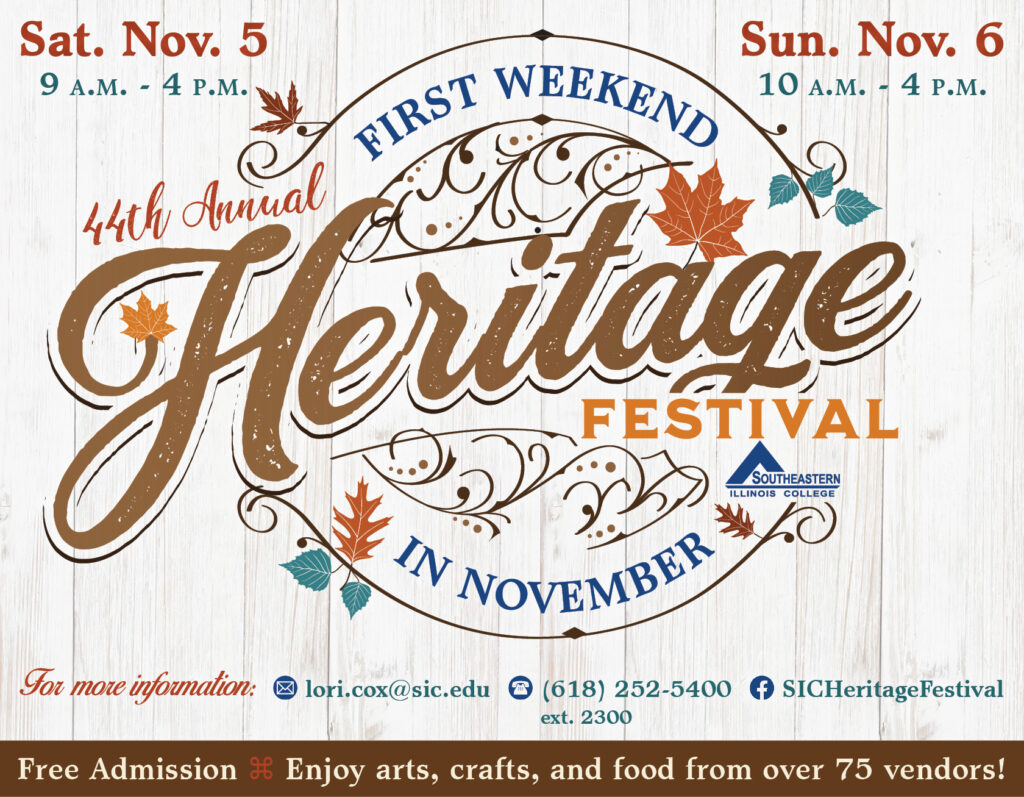 The 44th annual Heritage Festival at Southeastern Illinois College is back the first weekend in November. The event will be held Saturday, Nov. 5, 9 a.m. – 4 p.m. and Sunday, Nov. 6, 10 a.m. – 4 p.m.
As always, Festival-goers can expect handcrafted items and delicious food. Over 90 vendors will have wares to sell, kicking off the holiday shopping season. Items include dog clothing, handmade jewelry, fall and holiday décor and signs, boutique clothing, primitives, antiques and collectibles, specialty blends for dips and more, screen-printed tees, hair bows, scarves, blankets, hand crafted soaps and other skincare items, candles, embroidered hats, laser engravings, wood crafts, folded book art, historical books, and the list goes on.
"We are so excited to have Heritage Festival back and better than ever!" said director Lori Cox. "We have a great mix of past favorites and new vendors this year. After hosting this event for 43 years, SIC has earned the reputation from vendors and visitors alike that this is a show not to be missed."
Of course, no festival is complete without food. Vendors will have homemade candies, fresh pork rinds, spiced nuts, fresh vegetables, and much more. The Falcon Bistro will serve fried chicken, chicken & dumplings, sandwiches, pizza, and dessert.
Admission to the event and parking are both free, and handicapped parking is available. For questions about Heritage Festival, call Lori Cox at 618-252-5400, ext. 2300 or email lori.cox@sic.edu. Follow their Facebook page at facebook.com/SICHeritageFestival.
###