Marion volleyball standout signs with SIC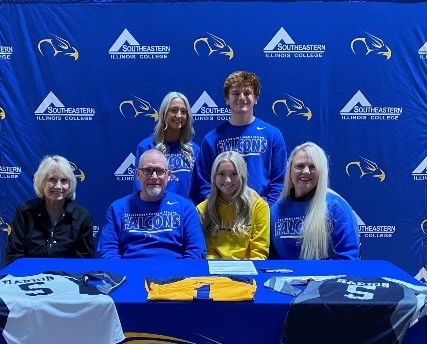 HARRISBURG, Ill. (January 5th, 2023) – Gabby Shrum, a standout volleyball player from Marion High School, has signed with Southeastern Illinois College to play volleyball after graduation. Throughout her prep career, Shrum exceled as a defensive specialist and earned All South 7 Conference Honorable Mention honors as a senior.
SIC Head Volleyball Coach Jon Watts is excited to add Shrum to his 2023 recruiting class and believes her impact will be felt on the team right away. "Gabby will help anchor our defense in the back row," Watts said. "She is extremely athletic and makes great defensive reads while also having a very aggressive serve. We are excited to welcome her to the SIC Volleyball Family."
The Falcons compete in the very competitive Great Rivers Athletic Conference as a part of the National Junior College Athletic Association. To be considered for the team, visit www.sic.edu/recruitme and fill out the brief form or contact Coach Watts at Jon.Watts@sic.edu or 618-922-4102. Scholarships may be available to those who qualify.