SIC Forensic Falcons Heading to Los Angeles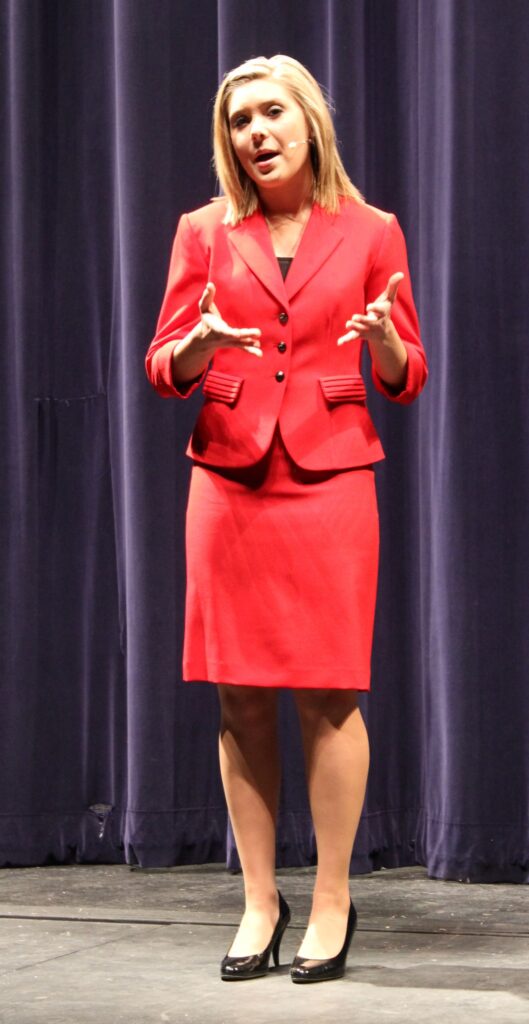 More than 250 spectators packed the George T. Dennis Visual and Performing Arts Center at Southeastern Illinois College on April 4 to watch one of the most successful programs in the school's history – the Forensic Falcons speech team – perform before heading to the upcoming Phi Rho Pi national tournament in Los Angeles.
The number one team in the state for the community college division, the Falcons yearly beat out competitors in much larger schools in the northern half of the state. Additionally, in the 40 years of national competition, the team has been ranked in the top five teams in the nation for more than 25 years and won three national championships – most recently in 2005.
Jeremiah Brown and Hannah Rodgers, both of Harrisburg, kicked off the event with their duo interpretation of Little Manhattan by Mark Levin and Jennifer Flackett. Brown and Rodgers play two children who met in a karate class where Brown develops a crush on Rodgers. They come to find out that true love is not always what it seems.
Nick Mott of Simpson gave his informative speech on the Eden Project, a sustainable growth initiative.
Zachary Hanks of Harrisburg performed a program oral interpretation with the theme "burn out." He incorporated different pieces from poems, prose and dramas.
Austin Winters of Carmi performed his dramatic interpretation of Coming up Short: The Seven Dwarves' Monologues by Ellen McKinney and Tracy Cohen. Winters played each of the seven dwarves and gave their perspectives on who Snow White was.
Benjamin McGuire of Raleigh gave an extemporaneous or limited preparation speech on the question, "Is Caroline Kennedy a smart choice as the US envoy to Japan?"
Tre Ingram of Harrisburg gave his poetry interpretation incorporating various poems that revolved around the central theme of curiosity, with the added bonus of breaking into song.
Corrine McDaniel of Harrisburg performed her persuasive speech on the dangers of dental sedation from those other than trained anesthesiologists.
Bethany Oxford of Norris City gave her prose interpretation on If You Could Hear What I See by Kathy Buckley. Oxford played Kathy Buckley, the first hearing-impaired comedian, proving that even in the middle of difficulties, opportunity can be found.
Nicole York of Omaha and Nick Volkening of Galatia acted as the emcees for the evening, explaining the events and introducing each presenter.
The event brought in about $2,000 to help fund the team's trip to the national tournament. For information on the Forensic Falcons, contact Paul Cummins at 618-252-5400, ext. 2234.
###