Armstrong and Poe Win National 3D Archery Titles For SIC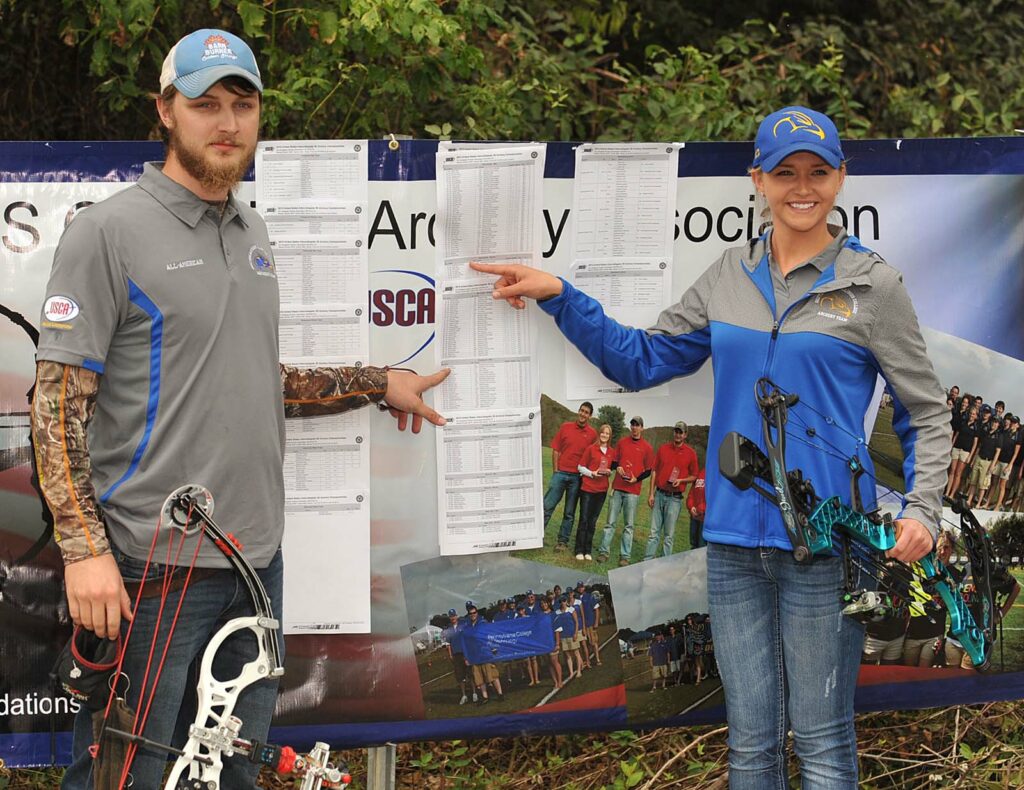 –Falcons win five silver and one bronze. Four Academic All-Americans and eight All-Americans crowned—
In a program with eight national titles in the last three years, only one belongs to a single Southeastern Illinois College archer — Aaron Head of Harrisburg in 2013. However, that changed this past weekend at the 2015 US Intercollegiate Archery Championships (USIAC) at Sahara Woods State Fish and Wildlife Area.
Alli Armstrong of Elizabethtown and Casey Poe of Arthur put together stellar performances to win the coveted titles of National 3D Archery Champion in Women's Bow Hunter and National 3D Archery Champion in Men's Compound. Two weeks earlier, Armstrong and Poe won regional titles in those same divisions.
Stephani Poe from Arthur and Trever Butts from Kinmundy garnered second places and silver medals in women's compound and men's bow hunter. Both Poe and Butts are first-year students at SIC.
In a Division I contest that attracted varsity teams from across the nation, including University of Nebraska and University of Wisconsin, the SIC Falcons placed second in team competition in women's bow hunter, men's bow hunter, and men's compound.
Southeastern's women's bow hunter team consisted of Armstrong and the mother-daughter duo of Kimberly and Kira McCalip from Rantoul. In the men's bow hunter division, Trever Butts and Clayton Hall both of Grayville, and Rhett Bullard of Iuka represented SIC. Men's compound featured Poe, Cody Nelson of Carmi, and Dalton Hays of Kinmundy.
In the mixed compound division event, the mother and son team of Stephani and Casey Poe placed third, giving SIC the bronze trophy.
Academic All-American honors for archers finishing in the top ten at nationals and carrying an overall grade point average of 3.0 or above went to Kimberly McCalip (9th), Kira McCalip (7th), Alli Armstrong (1st), and Casey Poe (1st).
All-American honors (top ten at nationals) went to Alli Armstrong (1st), Casey Poe (1st), Rhett Bullard (7th), Trever Butts (2nd), Cody Nelson (8th), Kira McCalip (7th), Kimberly McCalip (9th), and Stephani Poe (2nd).
Dalton Hays finished in 12th place and Clayton Hall in 22nd.
The four high school students in Southeastern's development division performed at a high level during the tournament. Bradford Sauls of Norris City-Omaha-Enfield High School placed 6th in men's bow hunter, and Dalton Conn of Hardin County High School placed 9th. It was a back-to-back top ten finish for Sauls, who placed 5th in last year's national competition.
Makayla McKenzie of Carmi-White County earned 19th place in women's bow hunter, while Kenny Raigner, Jr., also from Carmi-White County, placed 16th in men's bow hunter.
High school archers shoot the same format alongside collegiate archers but in USIAC's guest division. They are not eligible for collegiate honors.
Other SIC students participating in the tournament included Tyler Butts (19th in men's compound) from St. Peter; Jessica Morris (12th in women's bow hunter) from Golconda; Jeffrey George (26th in men's bow hunter) from Shawneetown; Jordan Schach (42nd in men's bow hunter) from West Frankfort; and Sean O'Leary (45th in men's bow hunter) from Kinmundy.
In the High Overall Average (HOA) category, Southeastern finished in second place. The college won the High Overall Average back-to-back in 2013 and 2014. SIC's total national title count now stands at ten. Academic All-Americans are at four and All-Americans at 20.
###