SIC Hosts National Archery Championships at Sahara Woods Oct 3-4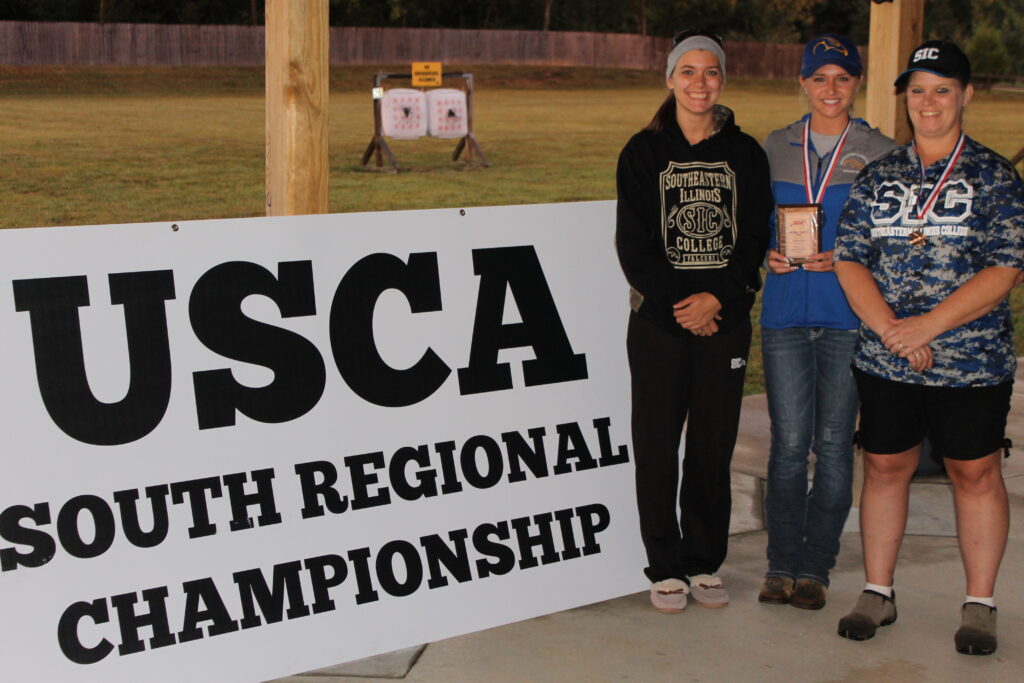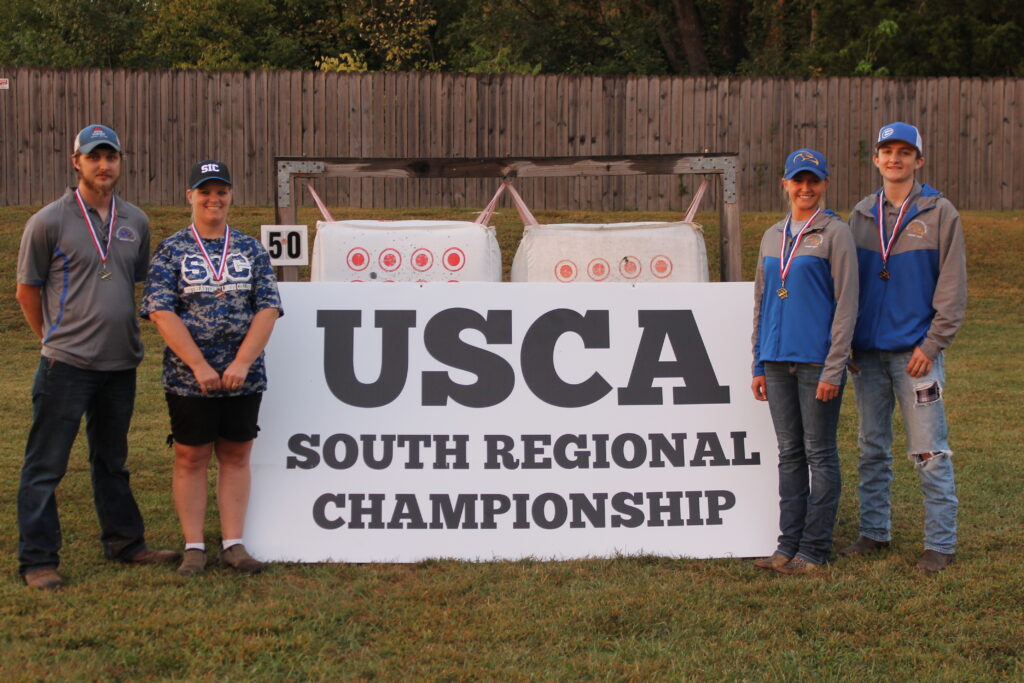 –Southeastern wins four regional titles in Frankfort, Ky. Armstrong and Poe win gold.–
If asked if Southeastern Illinois College's archery team is ready to compete on the national stage Oct. 3-4 against 150 or so of the best Division I archers in the country, SIC archery coaches Darin DeNeal and Roger Snodgrass would say the team is preparing each day and is looking forward to competing against the highest level of 3D collegiate archery in the world.
They also may say that two weekends ago, at the US Intercollegiate Archery South Regional Championships in Frankfort, Ky., the SIC archery falcons took home four regional titles, two of which were gold medals in individual scoring following a grueling 40 target competition against over 100 of the best shooters in the Midwest. Alli Armstrong of Elizabethtown, Ill. won the top spot in the women's bow hunter division, while USCAA national champion and All-American Casey Poe of Arthur, Ill. won top honors in men's compound.
Also making the podium for SIC in individual shooting were USCAA national champion and All-American Kimberly McCalip from Rantoul, Ill., placing second in women's bow hunter, and freshman Rhett Bullard of Iuka, Ill., taking third in men's bow hunter.
Two team titles came by way of Southeastern's women's bow hunter squad and its top bow hunter mixed duo. The combined scores of Alli Armstrong, Kimberly McCalip, and Kira McCalip (2014 national champion and All-American) of Rantoul were enough to win team gold, and the scores of Armstrong and Bullard captured the top prize in the mixed team category.
The 2015 US Intercollegiate 3D Archery Championships will take place Saturday and Sunday at the Sahara Woods State Fish and Wildlife Area just west of Harrisburg and north of Carrier Mills. Many know this area because of the popular fishing hole Sahara Lake.
Formerly held at the University of Missouri in Columbia, the two-day tournament was moved to Illinois when the California-based US Collegiate Archery Association (USCAA) inked a ten-year agreement with the Illinois Department of Natural Resources to hold the event at the Sahara Woods site.
Varsity squads from major Division I colleges and universities across the nation will be on hand this weekend, with competition beginning at 9:30 a.m. on Saturday and 8:30 on Sunday. Team rounds to determine divisional national championships will be held in the afternoon on Saturday, while the tournament awards ceremony, including the announcement of individual medalists, will take place Sunday afternoon.
Participation in the tournament is also open to the public. SIC, IDNR, and USCAA encourage local archers 18 years of age and older to shoot one or both days alongside collegiate archers. The entry fee for a "guest" shooter is $35.
Southeastern's team roster this year includes Alli Armstrong, Kimberly McCalip, Kira McCalip, Jessica Morris of Golconda, Jessica Boulds of Eldorado, Stephani Poe of Arthur, Clayton Hall (2014 national champion) of Grayville, Rhett Bullard, Trever Butts of Kinmundy, Jeffrey George of Shawneetown, Jordan Schach of West Frankfort, Sean O'Leary of Farina, Cody Nelson (2014 national champion) of Carmi, Dalton Hays of Kinmundy, Tyler Butts (2014-15 national champion and All-American) of St. Peter, and Casey Poe.
In its first three years of competition, SIC's archery team has collected eight national championships and crowned 12 All-Americans.
###