The Green Boots Boutique Brings Affordable Fashion to Harrisburg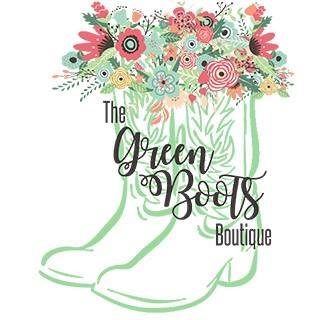 It all began with two friends, a passion for fashion and an idea to do something more.
In 2017, Maddison (Green) Maloney and Melody (Boots) Bryant, both full-time employees at Southeastern Illinois College, developed and successfully ran a social media driven women's clothing store through multi-level marketing. Over time, they wanted to purchase clothing they believed would better suit their market and researched means of opening an online boutique. And thus, an idea was born to transform their established business into something that will attract local buyers to affordable, yet fashion-forward clothing through social media.
They launched their social media and website in early 2018 after attending the AmericasMart wholesale retailer market in Atlanta. Bryant and Maloney launched their business and simultaneously began working with the Workforce and Illinois Small Business Development Center (WISBDC) at SIC to determine tax planning and start-up assistance.
"Not only did the WISBDC answer all of the questions we had, they had many resources to help get us started," said Maloney. "They helped with everything from looking over our business plan, to marketing, to financials. They went above and beyond to help a dream become a reality."
Growth came naturally for Maloney and Bryant, both experienced in finance, public relations and writing. Quickly after launching their social media and website, the opportunity to grow into a brick and mortar location presented itself. In June of 2018, The Green Boots Boutique opened its physical location at 800 W. Poplar Street in Harrisburg. They open their doors for shopping by booking incentive parties for clients through the week and starting in September to the public on Thursdays from 5-7 p.m. and Saturdays from 10 a.m.- 2p.m.
Their online boutique is still going strong with frequent additions to inventory and purchases from local clients and those living around the country. The boutique offers an array of women's clothing in sizes from small to 3XL, and boasts a price range of $40 and under.
"I would strongly encourage anyone looking to start their own small business to work with the WISBDC," said Bryant. "The WISBDC helps break down a lot of information that can be overwhelming into a manageable plan for your business. They are truly a valuable resource in helping make your business a success."
The Green Boots Boutique can be found at 800 W. Poplar Street in Harrisburg, Ill. They are active on Facebook and Instagram at: https://www.facebook.com/greenbootsllc/ and https://www.instagram.com/thegreenbootsboutique/.  Shop online at: https://the-green-boots-boutique.myshopify.com/.
The Workforce & Illinois Small Business Development Center is designed to assist owner and managers of small businesses as well as anyone wanting to start a business in the area.  Most of their services are available at no charge.  For more information about the WISBDC and their services call 618-252-5001.
###