SIC Forensic Falcons are 2019 State Champions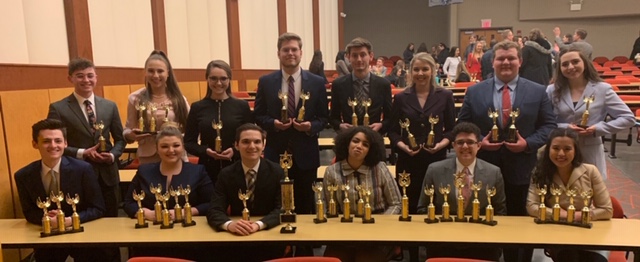 SIC's Forensic Falcons won the community college division at the Illinois Intercollegiate Forensic Association state tournament on the campus of Northern Illinois University on March 3 in DeKalb, Illinois. SIC also earned fifth place in the open sweepstakes, which included all universities competing in the state. Sophomore Braden Cummins was named top speaker in the community college division at the tournament.
State championships in individual events were won by Braden Cummins (Carrier Mills), Angelica Harrelson (Eldorado), Cheriaca Huntley (Carrier Mills), and Billy Lewis (Carrier Mills).
"This team has worked very hard and we are proud of their commitment to excellence," noted Director of Forensics Paul Cummins.
The team will be having a public performance on Thursday, April 4 at 7 p.m. in the George T. Dennis Visual and Performing Arts Center. Tickets are a minimum donation of $5 and will support the team traveling to the Phi Rho Pi National Tournament in Reno, Nevada.
Individual results from the tournament are as follows.
Braden Cummins (Carrier Mills): 1st Overall Sweepstakes, State Champion in Open Poetry, 3rd Open Duo Interpretation (DUO – with partner Cheriaca Huntley), 6th Open Program Oral Interpretation (POI), 5th in Communication Analysis (CA)
Cheriaca Huntley (Carrier Mills): 2nd Overall Sweepstakes, State Champion in Poetry, 2nd in Open POI, 3rd in Open DUO (with partner Braden Cummins), 2nd in After Dinner Speaking (ADS)
Angelica Harrelson (Eldorado): 4th in Overall Sweepstakes, State Champion in Prose, 2nd in Open CA, 7th in Open DUO (with partner Tucker Murphy), 6th in Open Dramatic Interpretation (DI)
Jasmine Teston (Harrisburg): 5th in Open CA, 6th in Open DUO (with partner Billy Lewis), 7th in Open DI, 2nd in Prose
Billy Lewis (Carrier Mills): State Champion in ADS, 6th in Open DUO (with partner Jasmine Teston), 5th in DI
Kenzee Dycus (Mt. Vernon): 2nd in CA, 3rd in Informative, 6th in Persuasion
Paige Clore (Norris City): 4th in Persuasion, 7th in Open Prose
Christian Murray (Harrisburg): 2nd in debate speaker awards, octa-finalist in open debate, 6th in Impromptu
Jacob Rice (Marion): 4th in Impromptu Speaking, 4th in Extemporaneous Speaking (Extemp)
Bradley Hydrick (Carmi): Semi-finalist in debate, top novice in Extemp
Tiffany Turner (Galatia): 2nd in Open DI
Tucker Murphy (Golconda): 7th in Open DUO
Emma Bradley (Eldorado): 3rd in Persuasion
Donovyn Valdez (Carrier Mills): 3rd in ADS
###