SIC Forensic Falcons Honored with IL House Resolution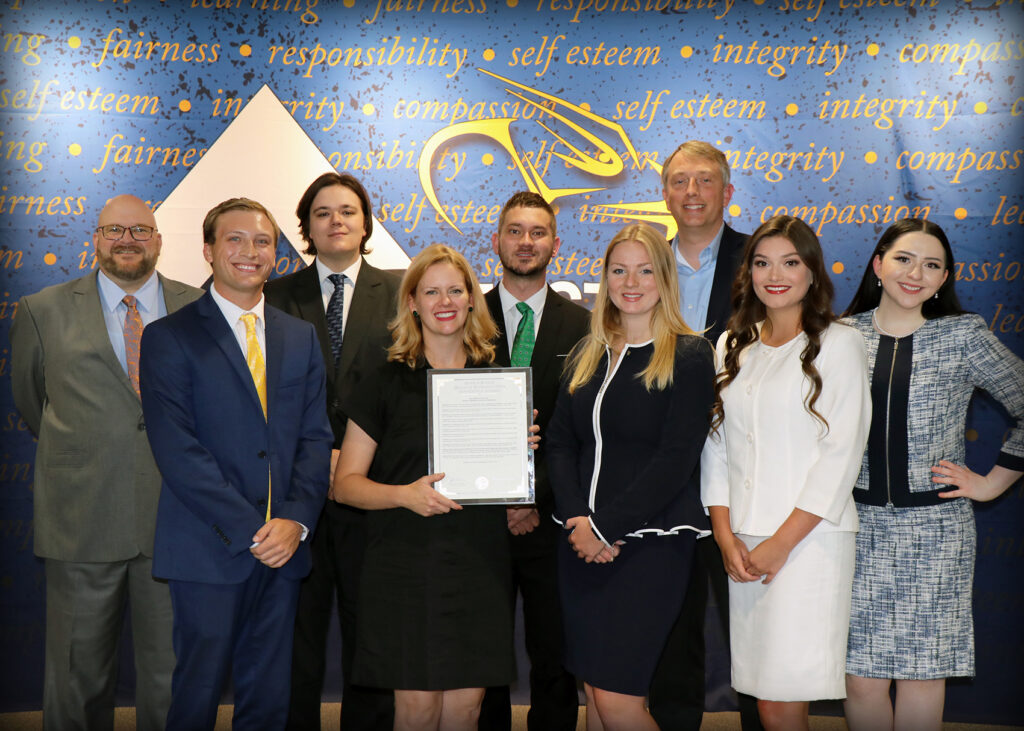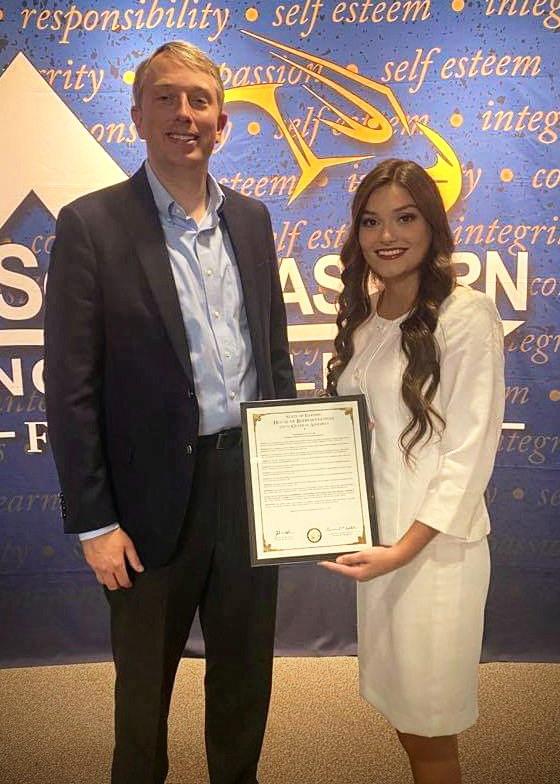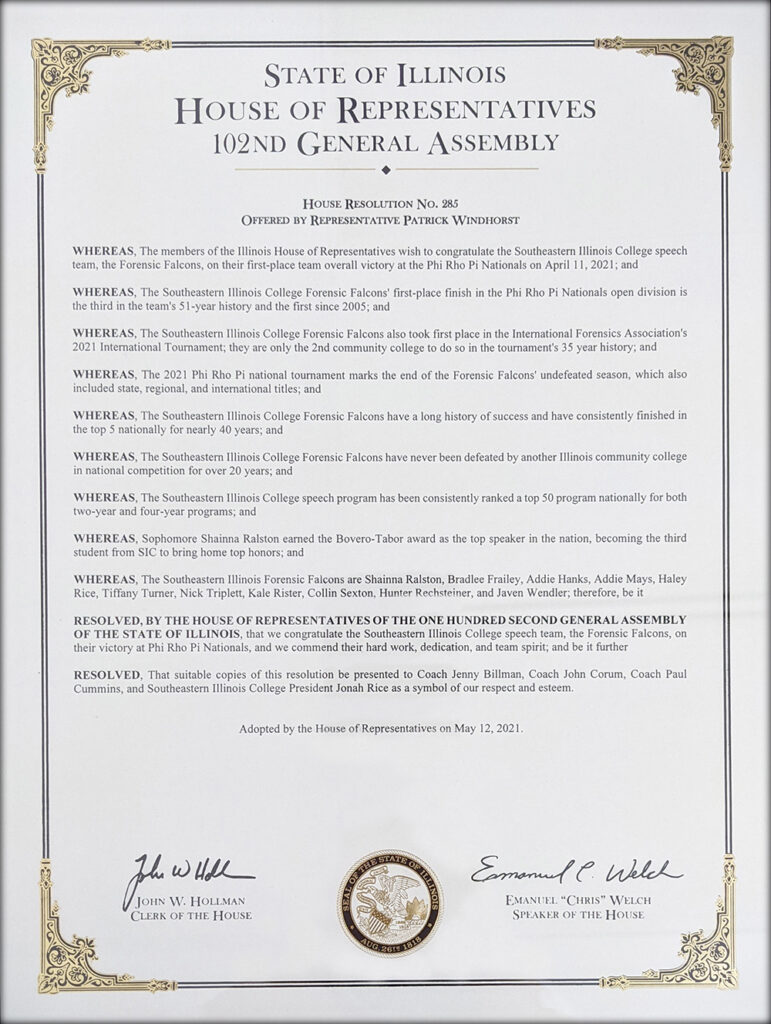 The Southeastern Illinois College 2021 National Champion Forensic Falcons were honored Wednesday, July 21, at the college by Rep. Patrick Windhorst.
Rep. Windhorst presented House Resolution 285 of the 102nd Illinois General Assembly to the SIC Forensic Falcons which he prepared and filed after hearing of the team's recent unprecedented season of competitive success. While presenting the resolution, which was adopted and approved May 12 of this year, Windhorst commended team members for their efforts, encouraging them to use their talents to make the most of every opportunity that comes their way. He also noted that it was an honor to be able to ensure that the team's achievements would be recorded in Illinois state history "for all time."
"As state representative, one of the best things I get to do is recognize achievement in our district, and this is one of the best achievements we've had in some time, and so it gives me great honor to be able to recognize what you've done," said Windhorst.
The Falcons ended an undefeated season April 11 with an overall win at Phi Rho Pi Nationals. This team's first place finish in the Wyman (open) division is the third in the team's 51-year history, and the first since 2005. Additionally, no other Illinois community college has beat Southeastern in national competition in over 20 years.
Sophomore Shainna Ralston of Eldorado was also recognized for earning the Bovero-Tabor award as the top speaker in the nation, becoming the third student from SIC to bring home this honor.
"SIC has a long tradition of competitive speech and debate, and this latest national championship is testament to the continued excellence the program has demonstrated," said SIC President and former Falcons coach, Dr. Jonah Rice. "To win this in spite of a pandemic, besting colleges from California to New York, Texas to Florida, is amazing.  I couldn't be more proud of the students and coaches."
Interestingly, Dr. Rice was a member of the very first SIC National Champion team of 1986, and this year, his daughter Haley was a member of the third SIC team to win nationals.
"I definitely appreciate having him understand the work that is put in and what it truly means to actually win the national tournament," said Haley Rice about her dad.
Haley won gold in informative speaking, bronze in communication analysis, bronze in persuasive speaking and fifth overall in individual events at nationals as a first-year competitor. She will be back on the team this fall, and looks forward to in-person competitions.
"It was a little disappointing that we couldn't travel or even hang out in the speech room because of social distancing last year, but I'm definitely looking forward to a more normal season this year!" she confided.
All tournaments were held online with video equipment set up in individual rooms on campus for each competitor. Haley said it did add extra pressure having to worry about the technology working properly, but at the same time there was less pressure because they weren't giving speeches in a room full of people.
"The commitment our team members make is considerable, and as with anything, you get out of it what you put into it. This team really put in the effort, despite a pandemic, despite having to contend with online competition for the very first time and the disappointment of not being able to travel and meet other competitors, as with a normal year," said Director of Forensics Jenny Billman. "The season was hard fought and well-deserved. Despite all the changes, this team adapted beautifully, and they did it with a good attitude and found a way to connect to each other that I really didn't expect and am truly impressed to get to see."
The online tournament format did make attendance at the International Forensic Association (IFA) Tournament possible for the first time in the team's history. The Falcons won, besting competitors from 37 other colleges and universities including Yale, Vanderbilt, and California State University, Los Angeles.
The 2021 season also included state and regional titles. The Falcons are coached by Jenny Billman, John Corum, and Paul Cummins.
A cake and punch reception followed the presentation.
The Southeastern Illinois College speech team began in 1970 under coaches Gary Allan and the late George Dennis. The team hit the top 10 nationally in the late 1970's and has placed in the top five community colleges nationwide nearly 30 times, with hundreds of individual championships. The team earned its first national title in forensics in 1986, with additional titles following in 1997 and 2005. For more information, visit www.sic.edu/ForensicFalcons or join them on social media: www.facebook.com/ForensicFalcons.
###