Falcons finish season on four-game winning streak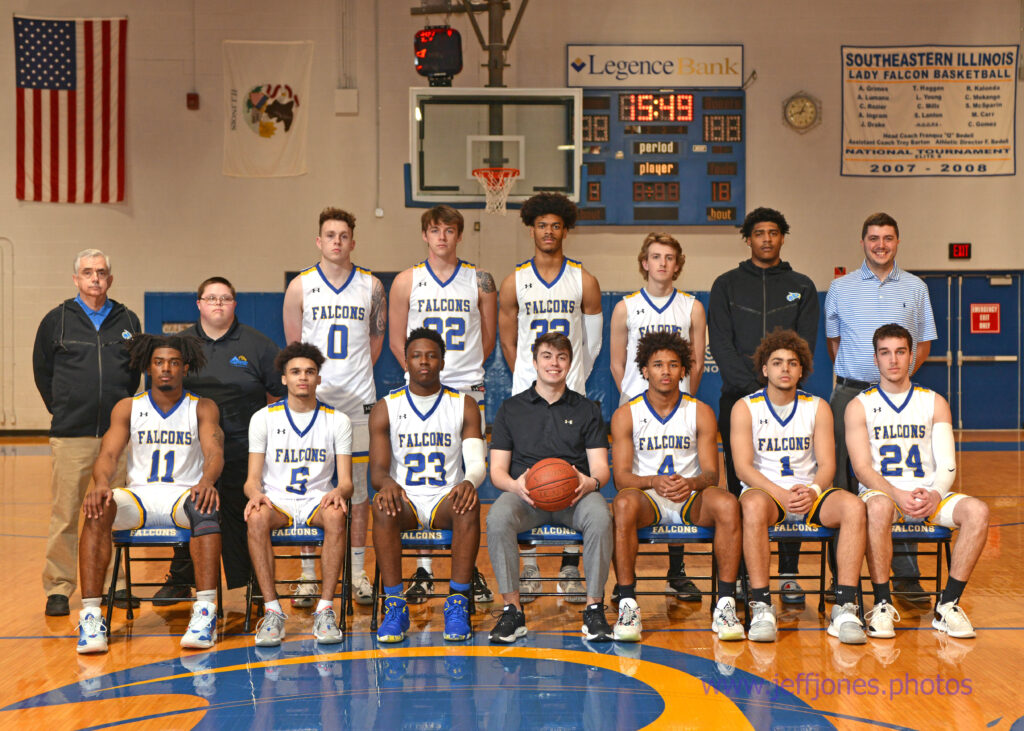 The Southeastern Illinois College men's basketball team closed out the 2021-2022 season on a four-game winning streak Saturday when it won both of its two games at its SIC Invitational Tournament.
The Falcons opened the day with an 89-83 win over Faith. SIC never trailed in the game and led by double figures throughout before holding off a late rally from the Warriors.
Noah Curry of Henderson, Kentucky (22 points), Brandon Anthony of Herrin (14 points), Devin Rankin of Carmi (13) and Kaleb Ramer of Golconda (10) all reached double figures to pace the Falcons.
Jemarco Burse of Annapolis, Missouri, had nine, Amir Spann of Mt. Vernon added eight, Bryce Simpson of St. Louis had six, Calen Banks of Hardin County had three and Peyton Edwards of Carmi and Kevon Williams of New Madrid, Missouri, had two points each.
In the second game of the tournament, Springfield ran away from Faith for a 30-point win, setting up a showdown between the Bulldogs and Falcons in the championship game.
The Bulldogs continued their strong play and built a 13-point halftime lead. Their lead grew to 15 early in the second half before the Falcons surged back. SIC outscored Springfield by 15 in the second half behind a full-court press and efficient offense to mount a huge rally on its way to an 82-80 season-ending thrilling win.
Curry once again had 22 to lead the way, while Williams had 20, Burse had 11 and Spann had 10. Anthony added nine, Edwards had five, Simpson had three and Rankin chipped in two.
SIC, which restarted basketball this season after taking a season off, finishes with 11 wins and completes the program's first double-digit win season since the 2014-2015 season.
The Falcons played a highly competitive pre-season and regular season schedule featuring top junior colleges such as Danville, Parkland, Mineral Area, Kaskaskia (twice), Grand Rapids Community College, Glen Oaks, Spoon River, Olney, Shawnee, Vol State, Lewis and Clark and St. Louis Community College — all on the road.
The Falcons have also developed a regional rivalry with fellow community college West Kentucky Tech of Paducah. The Falcons also challenged themselves against four-year universities including Oakland City (twice), Concordia of St. Louis, Missouri Baptist, Quincy University, Lindsey Wilson and Midway.
The rest of the Falcons' schedule featured prep academies that feature up and coming talent from across the country including Vision Collegiate, SEMO Prep, Springfield and Faith.
Under first-year head coach and former Falcon guard/SIC alum Sam Swinford, the Falcons featured five players from the SIC district, seven total from southern Illinois, one from nearby Henderson, Kentucky, one from nearby Evansville, Indiana, two from southeast Missouri and one from St. Louis. Every player on the SIC roster this season was a freshman.
"I'm really proud of you guys," Swinford said of his first season. "We got so much better this season and have built a solid foundation we hope to continue to build off moving forward."
###
By Riley Swinford, Assistant Coach to the Falcons