SIC Students Honored at Luncheon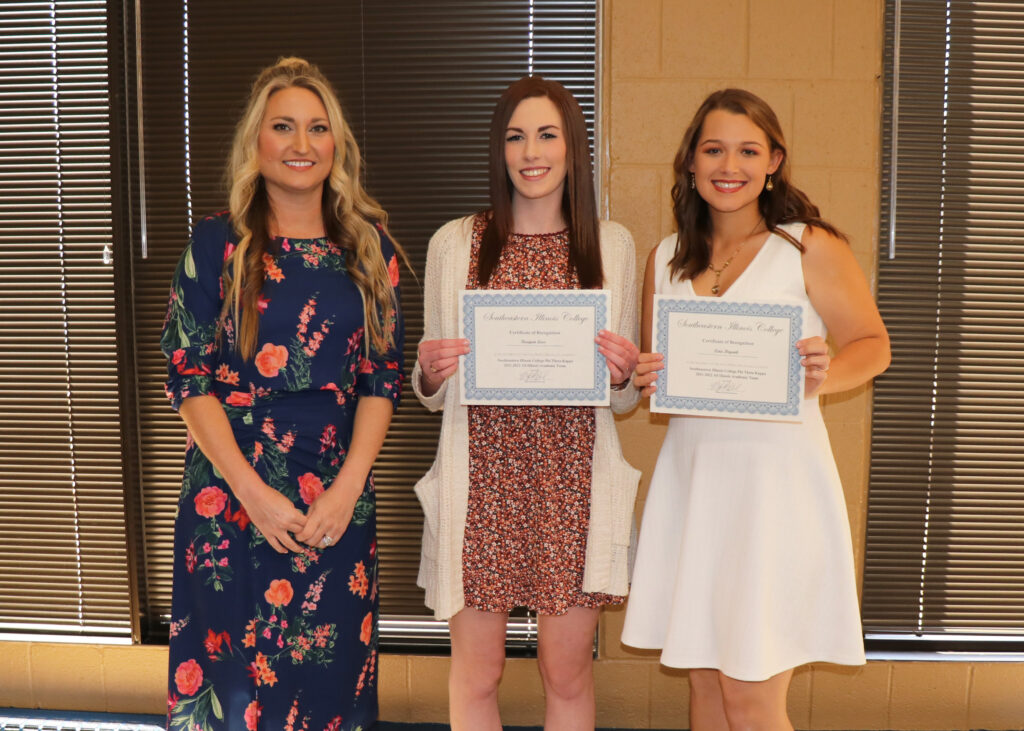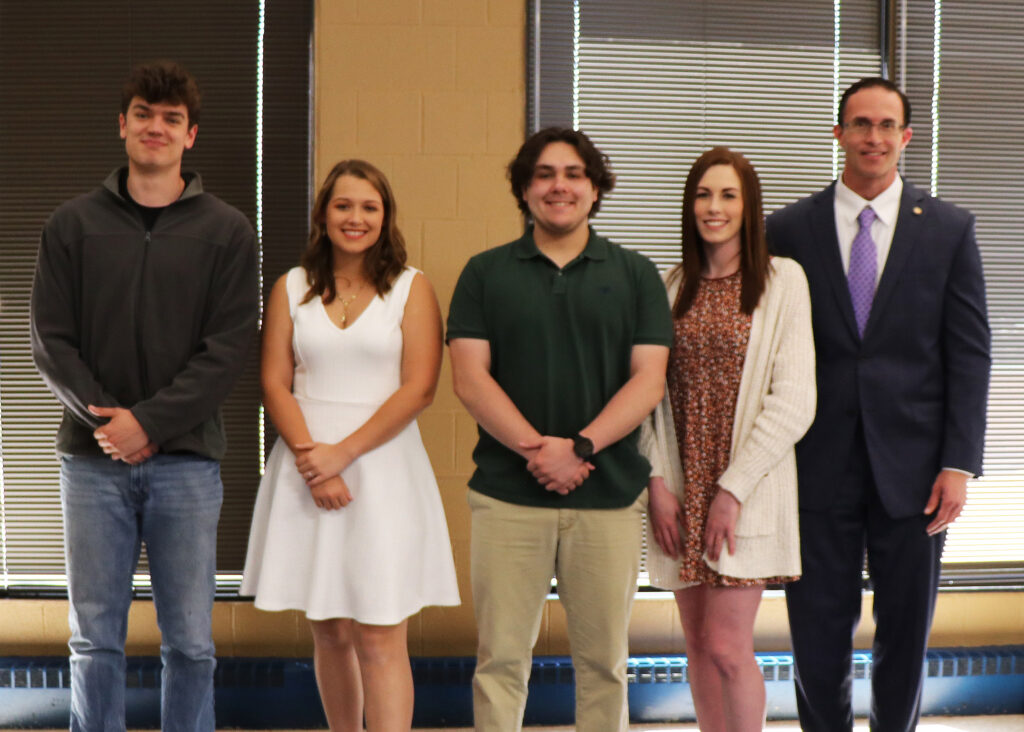 Southeastern Illinois College held its annual Honors Luncheon April 27 to celebrate academic and extra-curricular achievements of the student body in the Harry L. Crisp Student Center Cafeteria and Heritage Room.  Awards are as follows.
The Spirit of Southeastern Award is the oldest individual award given at SIC. It honors a sophomore who shows integrity, enthusiasm, and dedication to the ideals of the college. Isaiah Francis of Marion was awarded the 2021-2022 Spirit of Southeastern Award by Interim Dean of Student Services, Kyla Burford.
Reagan Lees of Marion (center) and Leia Bryant of Carrier Mills (right) were honored for being members of the All-Illinois Academic Team for Phi Theta Kappa. Lees will transfer to SIU-Carbondale this fall to pursue her degree in early childhood education to become a first-grade teacher. Bryant also plans to transfer to SIU-C to pursue a degree in secondary education to become a high school English teacher. Presenting their certificates was Kyla Burford, Interim Dean of Student Services.
Athletic and competitive team outstanding award winners (l-r) are Logan Byers of Rosiclare (esports – Faction of Gamers), Briley Watts of Stonefort (volleyball), Devin Rankin of Carmi (basketball), Ashley Poe of Omaha (Archery), and Mya King of Harrisburg (softball).
Student Government, sponsored by Matt Lees (right) and Kellye Whitler (not pictured), honored its officers Isaiah Francis of Marion (secretary), Leia Bryant of Carrier Mills (treasurer), Clay Brigham of Harrisburg (vice president), and Reagan Lees of Marion (President). The club, led by these officers, was touted for identifying the fitness center as an area of improvement on campus, which has now been fully funded with upgrades in process.
Students Graduating with Honors (45 credit hours, GPA 3.25 or greater) include (not in order and many not pictured):
Arlington, Ky. – Corbin Scott Hayden
Benton – Kevin Langley Jones II
Boaz, Ky. – Brittany Mary Harrison and Brandon Thomas Richards
Carmi – Joshua Alejandro Baker, Seth Carter Mann, Alexander Lee O'Daniel, Amber J. Sauls, Tyler Coy Spence, and Zachariah Gene Andrew Wagner
Carpentersville – Mandy M. Olvera
Carrier Mills – David Eugene Smith
Cave In Rock – Devin Riley Austin, Mayson Suzanne McDowell, Emma Grace Mott, Jasie Taylor Owen, Brayden Daniel Winters, and Melissa Paige Winters
Collinsville – Elijah Michael Norton
Creal Springs – Caleb Dean Johnson
Eddyville – Taylor Madison Gwaltney
Eldorado – Emma Kathryn Doggett, Dylan Scott Franklin, Nathan Philip Lee, Nolan Lee Milligan, Karsen Perry Price, Kynzie Paige Sizmore, Kyrsten Jade Sizemore, Hope Alicen Spivey, and Keaton Warren Allen Walls
Elizabethtown – Briley Brynn Blair, Destiny Marie McBee, and Cole Robert Trosen
Enfield – Caitlin Rose South
Equality – Anthony James Crest
Galatia – Brooke Ann Jordan, Sean Patrick McClusky, Mollie Grace Peterson, and Alison Mae Riddle
Golconda – Keerstin Dawn Fritch, Connor Thomas Hobbs, Jacob Logan Lemon, and Miranda Rose Wallace
Harrisburg – Ryan Marcus Boulds, Clay S. Brigham, Leia Rose Bryant, Melanie Marie Carr, Isaac Shain Crank, Madeleine Eve DeNeal, Noah Walker DeVous, Jonathon Edward Frigo, Landon Richard Gates, Ravyn Cheyanna Gauch, Lauryn Emily Michele Gribble, Madalyn Paige Gunning, Josie Dee Martin, Ashley Marie McDonald, Michael Robert Mugge, James Dean Murray, Christian Anthony Oliver, Hallie Eva Mae Olsoe, Grayson Ridge Osman, Jacob Christopher Penrod, Anna Renee Stricklin, Saddie Irene Vaughn, Marisol Walle, Anna Lavender Wasson, and Sophia Nicole Winkleman
Johnston City – Seth Robert Lindhorst
Marion – Cavan Michael Cameron, Janessa Nicole Laney, Reagan Marie Lees, Joshua Tyler McPheron, Lucas Cole Phillips, Andrea Patricia Roberts, and Noah Allen Ross
McLeansboro – Shaylyn Elizabeth Mayberry
Norris City – Tyler Morris Gray and Collin Jacob Ingram
Omaha – Nathan J. Bourland
Ozark – Ava Marie Goines and Noah Donald Treat
Ridgway – Maranda Ann Goodman, Brad Alan Gray, Richard Duane Minnick, Molly Michelle Newton, and Kaitlyn Marie Rider
Rosiclare – Abby Suzan Lee Horton, Sean Isaac Lane, and Lane Marie Williams
St. Francisville – Jarrett Ryan Winkles
Shawneetown – Tarryn Anslee Allen
Simpson – James Patrick McHugh
Stonefort – Eliza Shane Goines, Haley Elizabeth Rice, and Tayler Marie Threet
Thompsonville – Jaedyn Elayna Beers, Madison Marie Ladd, and Maddie Grace McFarland
Waltonville – Brandon Eugene Lowery
Waterloo – Nathan Michael Albrecht
West Frankfort – Justin Paul Richison
The Model Illinois Government team was also honored for their successes at the state competition, leading all school in total points. They include Oliver Abell of Ridgway, Jaxon Berry of Eldorado, Jacob Lemon of Golconda, Aleece McLeod of Shawneetown, Alex O'Daniel of Carmi, Callie Oxford of Harrisburg, and Jillian Womack of Eldorado.
Registration for summer and fall classes is currently open at SIC. Summer classes begin at various times in June for 5- and 8-week courses, and regular 16-week fall classes begin Aug. 15. Email advising@sic.edu to get started or visit sic.edu.
###