SIC men's basketball opens 2022-23 season with win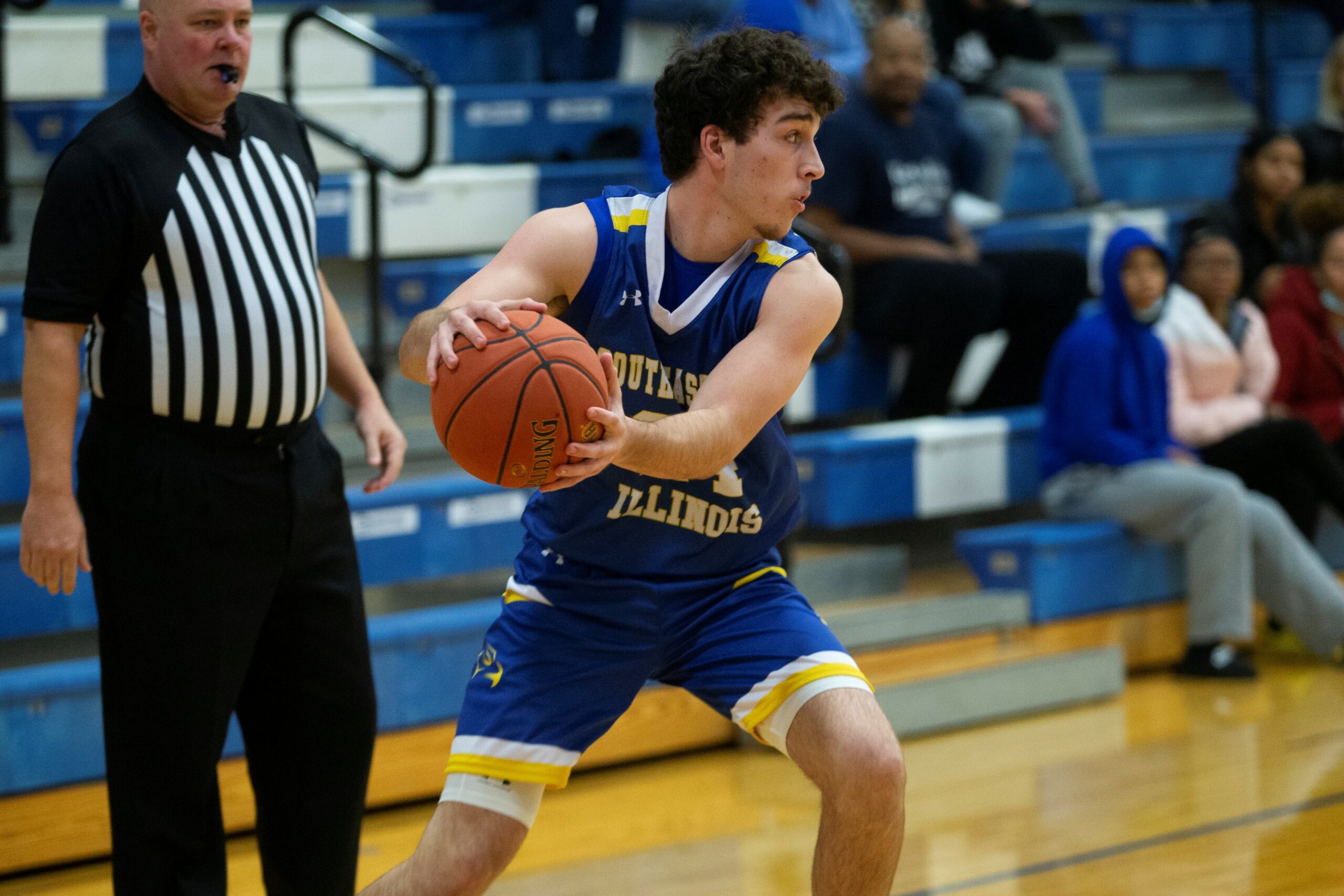 OWENSBORO, Ky. — The Southeastern Illinois College men's basketball team opened the 2022-23 season in style with a 96-90 win over Brescia University in Owensboro, Ky. Saturday afternoon.
The Falcons started slow and fell behind 35-23 midway through the first half before a timeout by SIC coach Sam Swinford. After the timeout, the Falcons closed the half on a 22-7 run to take a 45-42 lead into halftime and they never trailed again.
In the second half, SIC kept up the momentum and opened up a 68-59 lead with 12 minutes to play before Brescia rallied. The Falcons never trailed after taking a 44-42 lead in the first half and although the host Bearcats cut the Falcons' lead to 93-90 with under a minute to play, clutch free throws by sophomore Brandon Anthony sealed the win. The free throws capped off a game-high 32-point performance for the second-year player. He added three assists and five steals to lead the way.
He was joined in double figures by second-year starter Jermarco Burse who had 20 points, seven rebounds, four assists, three blocks and three clutch 3-pointers.
Sophomore Bryce Simpson barely missed a double-double with nine points and 11 rebounds. Sophomore Noah Curry had six points, four assists, two steals and nine rebounds. Sophomore Devin Rankin had two big 3-pointers and finished with six points. Also returning for the Falcons is sophomore Kaleb Ramer, who grabbed two rebounds and handed out two assists, and sophomore Amir Spann, who had four rebounds and played tenacious defense.
SIC also had key contributions from its freshman class including Owensboro product Amari Wales, who had 12 points and four assists in his Falcons debut. Freshman big man Kaiden Kender had eight points and eight rebounds. Jake Vaughn added one point and contributed clutch defense in the game's final minute. SIC also features freshmen Union County (Ky.) products Eli Mackey and Kaleb Kanipe and freshman forward Ben Carroll.
"I'm proud of our guys," SIC second-year head coach Sam Swinford said after the win. "We got contributions from everyone up and down our bench today — both from our 7 returners and our five freshmen who were active today. It took all of us. To come in here to a 4-year institution and open the season on the road was a tough task and our guys responded. I'm excited for this season."
The win for the Falcons (1-0) comes after a tough preseason slate where the Falcons prepared for the season with tune-ups at Elgin Community College against NJCAA Division I preseason No. 7 Triton and Chicago-area JUCOs McHenry and Waubonsee. SIC also took NAIA Division I varsity power Crowley Ridge College to the wire in a preseason scrimmage.
The Falcons have a busy week ahead with five games in the next seven days against St. Louis Community College (Tuesday), West Kentucky Tech (Wednesday), Lakeland (Friday), Concordia (Saturday) and Kaskaskia (Monday) — all on the road.
The home opener will be Nov. 16 against Greenville University at 7 p.m. in Deaton Gym.