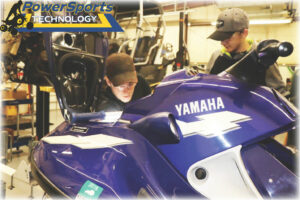 The Powersports industry is booming, and SIC's PowerSports Technology program will prepare you for a career in the maintenance and repair of side-by-sides, 4-wheelers, gators, and other ATVs and UTVs.
At SIC, you will receive hands-on instruction with current technology and one-on-one attention with small class sizes. Learn to diagnose, adjust, repair, or overhaul small engines as well as other systems that power recreational vehicles.
Finish the program in just nine months and get to work!
SIC is part of the Polaris Technical School Partnership Program. Students enrolled have the opportunity to receive Bronze and Silver level certifications through the University of Polaris.
SIC is accredited by the Higher Learning Commission and the National Automotive Technicians Education Foundation (NATEF). All SIC instructors are Automotive Service Excellence (ASE) Master certified.
Check out our #CTExplore Video to see Instructor Ralph Boots tell you more about the PowerSports program!
Featured Subjects
MC/ATV/UTV Electronics
Fuel Systems
Basic Internal Combustion Engines
Basic Mechanical Skills
Employment Opportunities
Our program is guided by an advisory board composed of local and regional industry members who review our curriculum, ensuring that students are learning the current skills needed by employers. SIC works directly with area dealerships for internship placement and anticipates high job placement rate for graduates.
Or maybe you plan to own your own Powersports maintenance/repair business. If so, the Workforce & Illinois Small Business Development Center (WISBDC) at Southeastern Illinois College can help you get started!
According to the U.S. Department of Labor's Occupational Outlook Handbook, the median annual pay for small engine mechanics was $39,020 in 2020 and employment expected to grow 9% from 2020 to 2030.
Professional links
Program Learning Outcomes
The goal of the Diesel/Powersports Technology program is to prepare individuals for careers as Diesel/Powersports and Heavy Equipment Mechanics and occupations related to the field. Upon satisfactory completion, the student will meet the entry-level performance requirements, including:
Goal 1: Demonstrate an understanding of the construction, function, and demonstrate general service of major vehicle and equipment components.
Goal 2: Diagnose mechanical malfunctions and performance problems. Demonstrate repair step scenarios.
Goal 3: Make good decisions as to the disposition of worn parts (i.e., "usable as is," "should be reconditioned or replaced," etc.).
Goal 4: Operate precision diagnostic tools and demonstrate use and repair on vehicles and equipment.
Goal 5: Demonstrate the use of repair manuals, Read and interpret both electronic and paper form.
Goal 6: Demonstrate the importance of good public relations with customers, employer, and fellow employees.
Goal 7: Understand and demonstrate basic shop operations.
Goal 8: Demonstrate knowledge of overhead and labor cost in relationship to profit, including shop cost-saving ideas.
Goal 9: Display professionalism on the job.
Goal 10: Demonstrate the use of web-based job search engines and other methods of seeking employment.
Diesel/PowerSports Technology Student Handbook– View more information about the program, including program objectives, requirements, evaluations, etc.
Interested students can also contact our SIC Recruiter at 618-252-5400 ext. 2245 or email recruiters@sic.edu