Nursing and Allied Health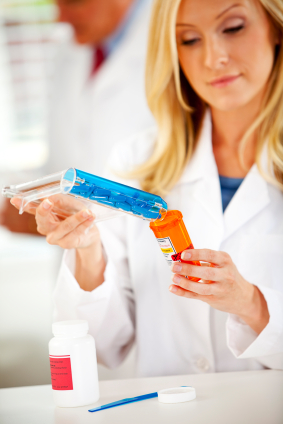 This program prepares entry-level employment as a Pharmacy Technician.  Pharmacy Technicians help Licensed Pharmacists dispense prescription medications.  Employment may be available in a variety of settings, including hospitals, retail pharmacies, and outpatient care centers.  This course is not payable by the PELL Grant unless it is a course required for a degree.
Upon successfully completing this course, the student will be eligible to apply for the ExCPT.  To be eligible to take the ExCPT, a candidate must (1) be at least 18 years of age, (2) have a high school diploma or GED and (3) have never been convicted of a felony or had a health license/registration disciplined.  Candidates are encouraged to read the Candidate Handbook posted by the National Healthcareer Association (NHA) for full information.
The Pharmacy Technician Certification Program is accredited by the National Commission for Certifying Agencies (NCCA).  Technicians who pass the (ExCPT) Pharmacy Exam are granted the title of Certified Pharmacy Technician (CPhT).
Individuals with Pharmacy Technician Certifications will typically perform work delegated by licensed pharmacists in accordance with state rules and regulations.  As a CPhT, you may perform some or all of the following tasks:
Receive written prescription requests from patients, and prescriptions sent electronically from doctors' offices
In some states, you may process physicians' orders by phone
Read the prescription, retrieve, count, pour, weigh, measure, and may mix or compound medications
Establish and maintain patient profiles
Prepare insurance claim forms and manage inventory
 Check out our #CTExplore Video to see our Director of Nursing and Allied Health, Amy Murphy, tell you about the Pharmacy Technician program!
---
Program Learning Outcomes
Goal 1: Review prescription medication orders for completeness and accuracy.
Goal 2: Demonstrate proficiency in assisting pharmacists in preparing, storing, and distributing medication products appropriate to a variety of pharmacy settings.
Goal 3: Process and transcribe medication orders written by prescribers.
Goal 4: Apply verbal, nonverbal, and written communication principles and skills effectively and compassionately within a team setting.
Goal 5: Uphold legal and ethical standards and adhere to principles of patient confidentiality within the health care and community environment as defined by HIPAA.
Goal 6: Maintain industry standards of quality control and safety principles in the workplace.
Goal 7: Demonstrate professionalism through acceptable attitude, organization and time management skills, and attire.
Goal 8: Prepare for the pharmacy technician certification and licensure examination.