Nursing and Allied Health
Certified Nurse Assistant-CNA
The Certified Nurse Assistant Certificate is approved by the Illinois Department of Public Health.  Southeastern Illinois College is accredited by the Higher Learning Commission of the North Central Association of Colleges and Schools.
What is a CNA?
Assists in patient care and function as effective members of the nursing team, under the supervision of a Registered Professional Nurse.
Careers can be found in hospitals, nursing homes, and home health care settings.
CNAs help patients/residents with basic daily needs and provide bedside care.
Some duties include shaving residents, giving baths, making beds, dressing residents, feeding residents, measure and recording vitals.
In Illinois, the student must attend a specified number of hours in clinical and theory satisfactorily.  Once the student has passed the CNA class at Southeastern Illinois College, they can then sit for the competency exam to become a CNA.
Frequently Asked Questions – SIU-C  Site
CNA Checklist – Detailed instructions and important information on becoming a CNA
This course does not require a high school diploma or GED.
Reading Assessment
You must have a minimum reading score on the Next Generation placement test or have taken a remedial Reading/English class passed with a "C" or better before you can register for the CNA class.  To see details regarding placement testing please visit our testing center page.
If you do not meet any of these requirements, you must contact the Registration Office to determine what remedial class(s) you must take before CNA. The remedial classes are not tuition waived.
Registration preference is given to in-district students since the tuition is currently being waived.
Out-of-district students will be placed on the waitlist behind any in-district students.  The registered student is still responsible for the $210.00 in fees even with the tuition being waived.  The Illinois Community College Board (ICCB) has set the boundaries of Southeastern Illinois College by zip code. To check your zip code to see if you are in our district visit ICCB.  Questions regarding residency should be directed to the Admission Office ext. 2441.  To register: bring your proof of residency with you and come to the Nursing Office T236.
The CNA program is NOT financial aid payable.
CNA classes are scheduled at different times throughout the year.
The best places to watch for CNA class announcements will be our website that you are currently on and by following us on Facebook.  Classes are held at our Harrisburg and Carmi campuses.  If you have questions please call or stop by the Carmi Campus (618-382-8869) or the Nursing Department at the Harrisburg campus (618-252-5400 ext. 2331).   Registered students must pay the $210 fees by deadlines announced at CNA orientation.  Failure to pay the fees by this deadline will result in being dropped for non-payment.
Course Description:  (CNA 131 Certified Nurse Assisting) Teaches and trains the nursing assistant to assist in patient care and function as effective members of the nursing team, under the supervision of a Registered Professional Nurse, in hospitals, nursing homes, and home health care settings. Orient to the work environment and responsibilities needed for quality patient care and good employee morale. Prerequisites: The Health Care Worker Background Check Act was amended in August 1996 and stipulated that the required non-fingerprint background check for nurse aides/habilitation aides be initiated at the beginning of the training program. A fee is required for this background check and will be the responsibility of the student. (7 credit, 4 lecture, 6 lab)
State Licensure or Certification Information
Find information on the specific states, in which the institution has determined its Certified Nursing Assistant program curriculum meets the state educational requirements for licensure or certification regardless of modality.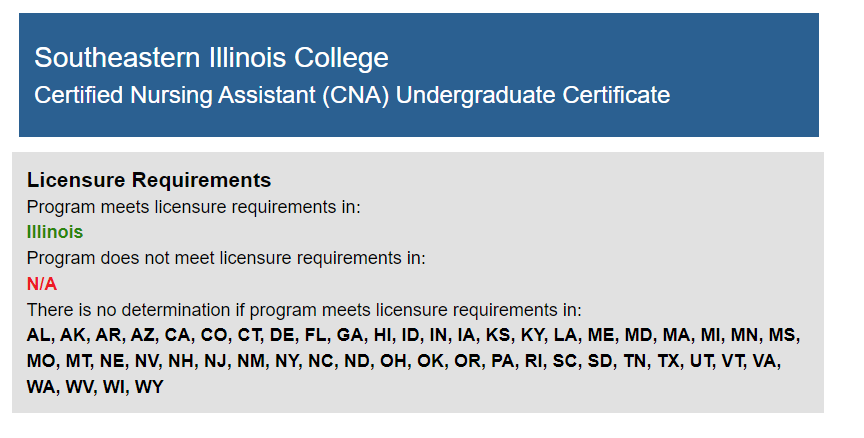 ---
CNA Train the Trainer
*Check back to see when the next Train the Trainer class will be held at SIC.
Visit cnaeducators.org to view upcoming courses throughout the state.
IDPH requirements:
Must be a registered nurse with a minimum of two years of nursing experience.
Required to have one year of experience as a registered nurse with direct patient care, for the elderly or the chronically ill of any age in the following: long-term care nursing facility, extended care unit, geriatrics department, chronic care unit, swing bed unit of a hospital, hospice, home health, or other long term care setting.
Course Description:  Prerequisites: RN Licensure in the State of Illinois, two years of nursing experience in a long-term care setting.  This course is to prepare registered nurses to teach nursing assistants.  The course will focus on necessary teaching skills including the teaching-learning process, behavioral objectives, and educational outcomes, teaching methods and tools, utilization of audio-visual equipment, and evaluating learning.  Application to the clinical laboratory will be included.  Students will be required to prepare written assignments.  A basic present oral reports and complete all in class assignments.  A basic review of Alzheimer's Disease and appropriate nursing care of Alzheimer's patients is included in this course.  This course meets the Illinois Department of Public Health's requirement for teachers of the state approved nursing assistant course.  (2 credit, 2 lecture, 0 lab)
---