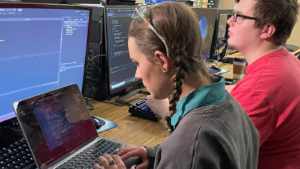 Associate in Applied Science Degree & Certificate
The Information Technology (IT) Program is for any student wishing to expand their knowledge of computer hardware, operating systems, computer security, programming, web design, or networking. Students will be prepared for entry-level employment in a wide variety of industries. Students will gain experience with various operating systems including Windows (desktop and server) and Linux. Students will receive hands-on training on various types of computer hardware. The successful student will be prepared to pass industry-standard certification tests from Microsoft, Cisco, and CompTIA.
Computer Training at the college level, like the Information Technology programs at Southeastern Illinois College, provides students with one of the best financial investments they can make in education. According to a 2009 Yahoo Education article*, a degree related to Information Technology is one of the top five returns on investment of any degree in higher education.
Career opportunities are available in any number of industries including health care, education, financial, and government.  You may advance your career in different areas, such as:
Network Administrator
System Administrator
PC Technician
Help Desk Technician
Service Technician
Check out our #CTExplore Video to see instructor Scott Reed tell you more about the Information Technology program!
---
Program Learning Outcomes
The goal of the Information Technology Program at Southeastern Illinois College is to prepare students to:
Goal 1: Demonstrate proficiency in industry-standard business productivity software such as Microsoft Office. (IT 119)
Goal 2: Analyze a computing problem and demonstrate proper troubleshooting methods related to computer hardware, computer software, and networking. (IT 153 and IT 215)
Goal 3: Install, configure, and maintain modern operating systems such as Windows and Linux. (IT 151 and IT 155)
Goal 4: Identify threats to computer systems and explain how to limit or eliminate exposure.  (IT 195)
Goal 5: Install and configure networking hardware such as a switch or router. (IT 215)
Goal 6: Design and build a computing system to provide network services such as authentication, host configuration, web, et.al. (IT 217)
Goal 7: Complete industry-standard certification tests such as the CompTIA A+, CompTIA Network+, CompTIA Security+, et.al., to demonstrate job readiness.
* Additionally, Students pursuing an AAS degree in Information Technology should be able to:
Goal 8: Communicate effectively in a variety of professional contexts. (Required ENG, COM, and Social Sciences courses)
Goal 9: Work with mathematical equations related to their chosen profession. (Required MATH courses)
* Additionally, students pursuing an AAS degree in Information Technology Programming should be able to:
Goal 10: Understand, compose, and debug computer programs. (IT 173)
Join SIC Information Technology and Computer Club on Facebook.
* Yahoo Education article archive can be viewed at http://web.archive.org/web/20090919043020/http://education.yahoo.net/degrees/articles/featured_from_degree_to_pay_check.html